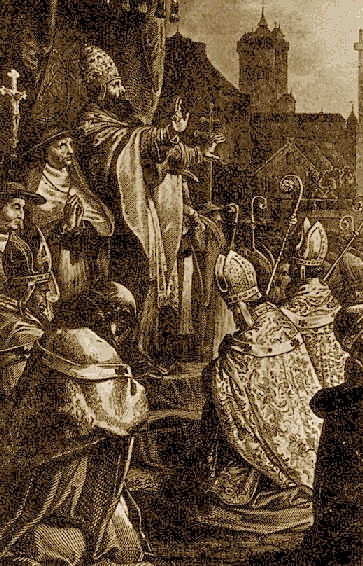 . . . . . . For your brethren who live in the east are in urgent need of your help, and you must hasten to give them the aid which has often been promised them.

For, as the most of you have heard, the Turks and Arabs have attacked them and have conquered the territory of Romania [the Greek empire] as far west as the shore of the Mediterranean and the Hellespont, which is called the Arm of St. George.

They have occupied more and more of the lands of those Christians, and have overcome them in seven battles. They have killed and captured many, and have destroyed the churches and devastated the empire. If you permit them to continue thus for awhile with impurity, the faithful of God will be much more widely attacked by them.

On this account I, or rather the Lord, beseech you as Christ's heralds to publish this everywhere and to persuade all people of whatever rank, foot-soldiers and knights, poor and rich, to carry aid promptly to those Christians and to destroy that vile race from the lands of our friends. I say this to those who are present, it meant also for those who are absent. Moreover, Christ commands it. . . . . . .