BAYEUX MEMORIAL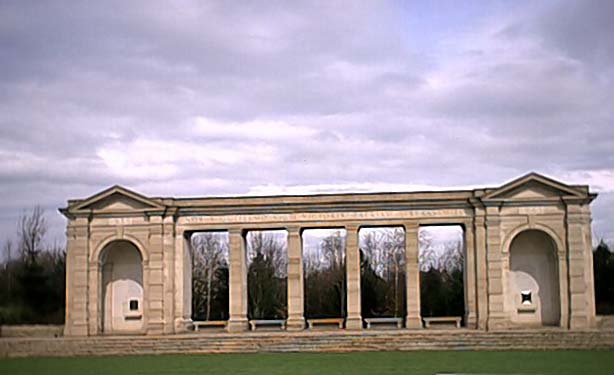 British - 1,537
Canadian - 270
South African - 1
HISTORICAL INFORMATION: Bayeux was entered by the Sherwood Rangers late on 6th June 1944, but was formally liberated the next day - it fell without a fight. Charles de Gaulle established its first seat of government here until Paris was liberated, and it became the main staging post for the British Army in Normandy. The streets of Bayeux were too narrow for most military vehicles, and so the Royal Engineers and Pioneer Corps constructed a ring-road round Bayeux soon after D Day. Several military hospitals were established here in 1944.
LOCATION: The memorial is directly opposite Bayeux War Cemetery, and lies on the south-west side of the main ring road (built by the British in 1944) around the city of Bayeux. It is about 100 metres from the junction with the D5 to Littry, and on the same side of the road, and only a short distance from the Museum of the Battle of Normandy (which is well signposted throughout Bayeux).
PERSONALITIES: The Bayeux Memorial commemorates those killed in the Battle of Normandy, and the advance to the Seine from 6th June to 29th August 1944, and have no known grave. An inscription of the memorial reads:
NOS A GULIELMO VICTI VICTORIS PATRIAM LIBERAVIMUS
Which freely translated means:

"We, once conquered by William, have now set free the Conqueror's native land."
The names are recorded by regiment, the greatest representation being from the Gloucestershire Regiment with 171 men commemorated here. This is roughly ten per cent of the total.
Also commemorated here are a large number of men who were killed with the 3/4 County of London Yeomanry when German Tiger Ace Michael Wittmann, ran amok in Villlers-Bocage on 13th June 1944.
PAUL REED 2001