古希臘史跡探索之旅
Ancient Greece & Turkey Study Tour,
2013年12月13-24日
文明研習社主辦, 夏其龍博士領導, 雅達旅運有限公司承辦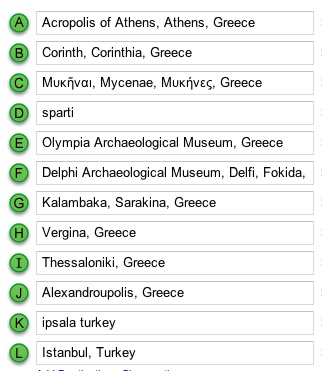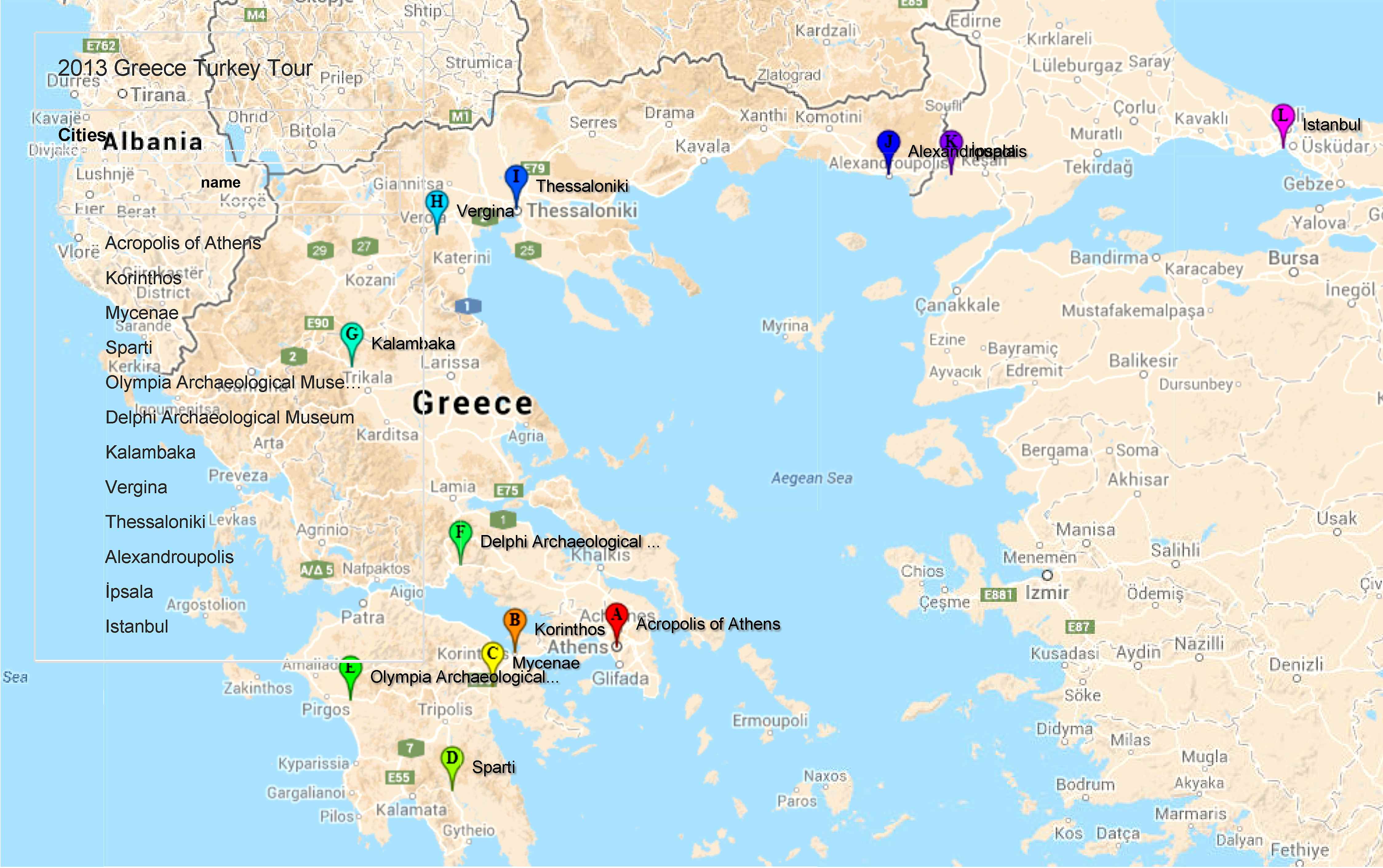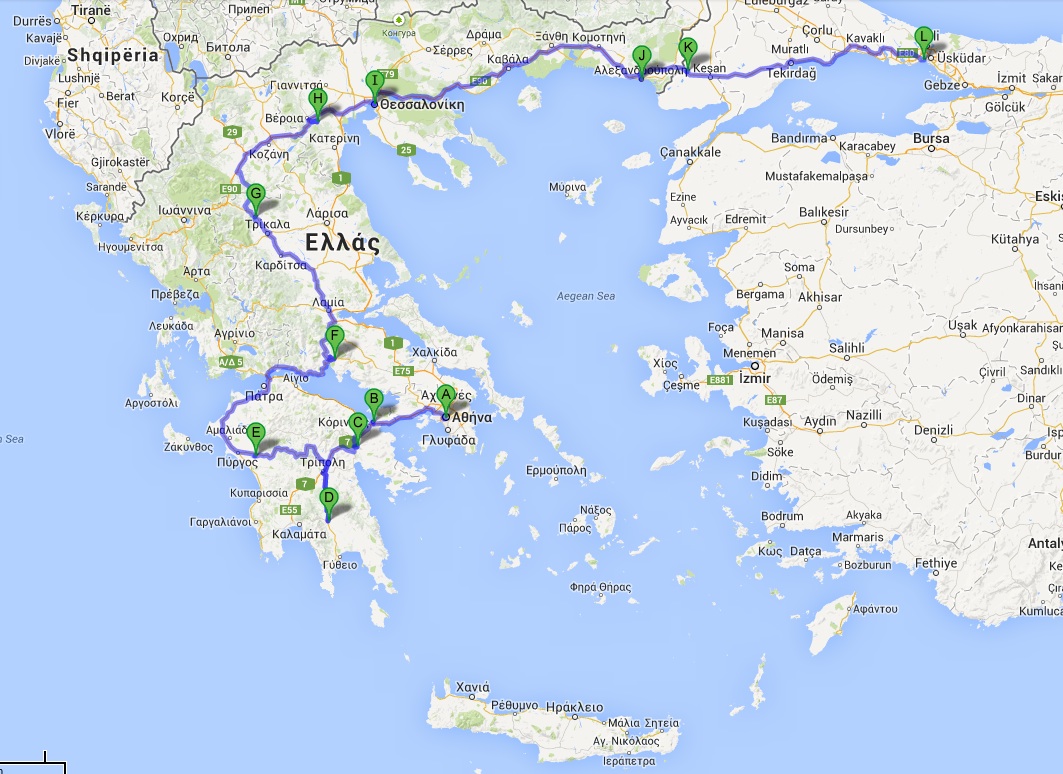 ITINERARY
Please see the UPDATED ITINERARY
Day 1 - Hong Kong 香港
13Dec2013 (Fri)
Hong Kong ~ Athens via Istanbul (Turkish Airlines)
TK71 HKG/IST 2315/0525+1 [12h 10m]

Day 2 - Athens 雅典[A]
14Dec2013 (Sat)
TK1845 IST/ATH 0740/0905 [1h 25m]
Airport ~0.5hr~ City Tour ~ (Athena Parthenos / The Acropolis Museum / Keramikos / Areopagus / Asclepieion)
Lunch : Own Arrangement
Dinner : Local Restaurant
Hotel Athens : Golden Age of Athens/similar

Day 3 - Athens 雅典[A]
15Dec2013 (Sun)
Hotel ~ Metropolitan Cathedral ~ National Archaeological Museum Athens ~ Agora Museum(The Temple of Hephaistos & Agloi Apostoli Church) ~ View of Hadrian's Arch Monument ~1.5hrs~ (Megara?) Corinth
Breakfast: Hotel
Lunch : Own Arrangement
Dinner : Local Restaurant
Hotel Corinth : Alkyon Hotel(Garden View)/similar

Day 4 - Corinth 科林斯 [B] ~ Mycenae 邁錫尼 [C] (Argos?) ~ Corinth 科林斯 [B]
16Dec2013 (Mon)
Hotel ~ Corinth Site & Museum ~1hr~ The Mycenae Archaelogical Site & Museum ~1hr~ Hotel
Breakfast: Hotel
Lunch : Own Arrangement
Dinner : Local Restaurant
Hotel Corinth : Alkyon Hotel(Garden View)/similar

Day 5 - Corinth 科林斯 [B] ~ Sparti 斯巴達 [D] ~ Olympia 奧林匹亞[E]
17Dec2013 (Tue)
Corinth / Isthmus of Corinth ~2.5hrs~ The Sparta Archaeological Museum & Site ~ The Mystra Museum & Site ~ Lunch ~ Tegea ~3hrs~ The Olympia Site & The Archaeological Museum of Olympia
Breakfast: Hotel
Lunch : Own Arrangement
Dinner : Hotel
Hotel Olympia : Best Western Europa Hotel/similar

Day 6 - Olympia 奧林匹亞 [E] ~ Delphi 德爾福 [F] ~ Kalambaka 卡蘭巴卡[G]
18Dec2013 (Wed)
Olympia ~3.5hrs~ Delphi ~ The Archaeological Museum of Delphi ~The Marmaria (Sanctuary of Athina Pronaia) ~ Spring of Kastalia(outside view) ~3.5hrs~ (View of Mount Olympos) Kalambaka
Breakfast: Hotel
Lunch : Own Arrangement
Dinner : Hotel
Hotel Kalambaka : Meteora Hotel/similar

Day 7 - Kalambaka 卡蘭巴卡 [G] ~ Aigai (Vergina 維基拿) [H] ~ Thessaloniki 塞薩洛尼基[I]
19Dec2013 (Thu)
Kalambaka ~2hrs~ Vergina ~ Half day Vergina city tour on foot ~ Lunch ~ The Vergina Museum & Tombs ~2.5hrs~ Thessaloniki
Breakfast: Hotel
Lunch : Own Arrangement
Dinner : Hotel
Hotel Thessaloniki : City Hotel/similar

Day 8 - Thessaloniki 塞薩洛尼基 [I]
20Dec2013 (Fri)
Thessaloniki ~ Byzantine Museum ~ The White Tower(Include Museum) ~ Thessaloniki Jewish Museum ~ Lunch ~ Church of Agios Dimitrios ~ The Archaeological Museum of Thessaloniki
Breakfast: Hotel
Lunch : Own Arrangement
Dinner : Hotel
Hotel Thessaloniki : City Hotel/similar

Day 9 - Thessaloniki 塞薩洛尼基 [I] ~ Alexandroupolis 亞歷山德魯波利斯 [J] ~ Ipsala 伊普薩拉 [K] ~ Istanbul 伊斯坦堡 [L]
21Dec2013 (Sat)
Thessaloniki ~3.5hrs~ Alexandroupolis ~ Lunch ~1hrs~ Boarder Kipi-Ipsala ~4hrs~ Istanbul
Breakfast: Hotel
Lunch : Own Arrangement
Dinner : Local Restaurant
Hotel Istanbul : Grand Yavuz Hotel/similar

Day 10 - Istanbul 伊斯坦堡 [L]
22Dec2013 (Sun)
Istanbul tour: (Blue Mosque, Topkapi Palace, St.Sophia, Underground Cistern)
Breakfast: Hotel
Lunch : Own Arrangement
Dinner : Local Restaurant
Hotel Istanbul : Grand Yavuz Hotel/similar

Day 11 - Istanbul 伊斯坦堡 [L]
23Dec2013 (Mon)
Istanbul tour: (The Archaelogical Museum, Mozaik Museum, Turk & Islamic Art, Grand Bazaar, Hippodrome) ~0.5hr~ Istanbul Airport.
Breakfast: Hotel
Lunch : Own Arrangement
Dinner : Local Restaurant

Day 12
24Dec2013 (Tue)
Istanbul ~ Hong Kong
TK70 IST/HKG 0100/1640

(
missing the chance to visit Knossos, Santorini, Troy, Thebes, Marathon
)
FARE (quoted by Arrow Travel Agency Ltd.)

LAND FARE
13 – 24 Dec 2013
9 Nights / 12 Days Greece & Turkey Tour
- Twin Share -
HK$12,290/person - (35 persons or above)
HK$12,790/person - (30 ~ 34 persons)
- Single Supplement: HK$3,600/person -

GROUP AIR TICKET FARE(Turkish Airlines):
Group fare:
HK$7,200/person
13Dec Hong Kong - Istanbul Flight:TK71 2315/0525+1
14Dec Istanbul - Athens Flight:TK1845 0740/0905
24Dec Istanbul - Hong Kong Flight:TK70 0100/1640
Tax & fuel surcharge:
HK$2,389/person (Subject to change)

GRATUITY (for the tour escort, local guides, drivers) -
HK$120 x 12days = HK$1,440

STUDY FEE (charged by the Civilization Studies Society)
HK$1,000/person

Study meetings:
at Lecture Hall, Hong Kong Visual Arts Centre, 7A Kennedy Road, Central, HK
香港中區堅尼地道 7A,香港視覺藝術中心演講廳

第一堂:October 4 (Fri.) 19:00-21:00
General Introduction and ASSIGNMENTS

第二堂:November 1 (Fri.) 19:00-21:00
The Entranace to Ancient Greece

第三堂:November 29 (Fri.) 19:00-21:00
A tour of eight World Heritage sites





Attention
第四堂:January 10 ➞ 17 (Fri.) 19:00-21:00

Written reports (3,000 words to be handed in before/on January 10, 2014.)

"From Hong Kong to Patras" - 2014: The University of Patras, p.11


Full-time students who fulfil ALL the requirements of the above study scheme will have the study fee (HK$1,000) reimbursed.

The Study Fee of HK$1,000 and a deposit of HK$3,000 for the tour should be attached to the application form and sent to the "Civilization Studies Society" before 23 September, 2013.